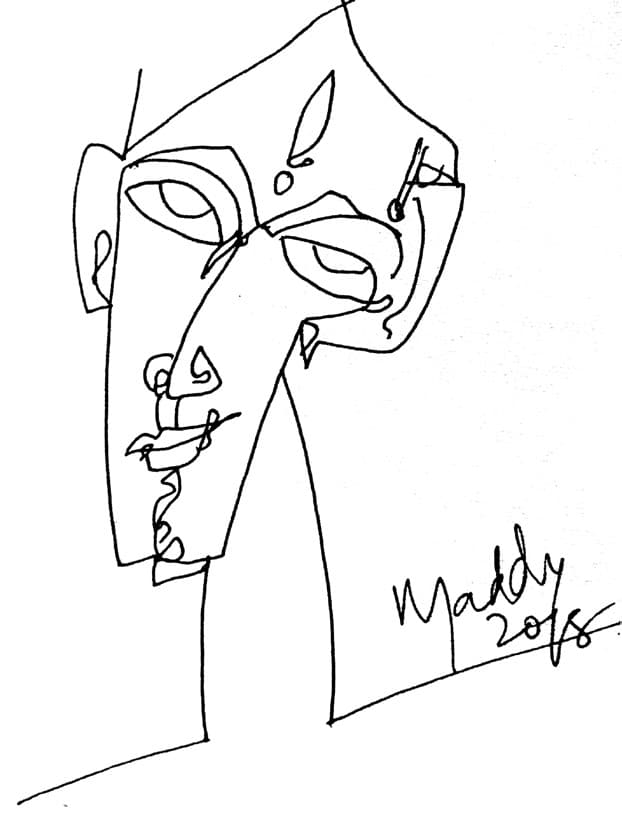 There is a turning to the Erikarai Street if you go straight in the Mettu Street, isn't there? Just opposite is the platform under the banyan tree. It is there Lechumi akka had her iddli shop. The round shaped platform around the tree was the symbol of the taste of the people of yore. All the time you could hear endless arguments. Only those who have experienced sitting on the cement layered platform will know how significant it is. Sometime ago there used to be a pillayar statue on the platform. The statue was five hundred years old and the president of the village had spirited it away and sold it to a foreign country, they say. There were court cases and so on and later the president became a minister.
It is at the place where there was the pillayar, Lechumi akka had her little eatery. My house was not too far away from there. When I say it was a shop don't imagine that it was like a restaurant. The shop consisted of a large pot for the dough, a stove, the iddli maker, a tin shelter around the stove to protect the fire from the wind, a bamboo basket with a lid and some firewood. Akka would sit on a sack and put the coins got for iddly and vadai under the sack.
When the morning light slowly crept in like putting on the cover on a black pillow, akka would start her shop. By the time the twigs caught fire it would be day break. It would be seven o'clock when I went to akka to get iddlies with a plate and an egg.
It was the time when I stayed with my grandmother and went to school. It was arranged that akka should give me two iddlies and an egg dosai every morning. Akka would get the money from grandmother. When I stood before akka she would invariably say, "I was wondering why you had not come yet?"
Though she repeated the same words every day, they wouldn't be mere formality. It would make you feel as if she had been really expecting you. She would cover the egg with an aluminum plate to let it cook. Akka's yellow face would shine in the morning light. She would sit before the stove only after a dip in the tank, it appeared. Her hair would be still wet and her wet blouse would be sticking on her back. Her hair still uncombed would be pressed close by the water drops. And just on her forehead would be the red pottu like the flame.
People who returned after their bath at the lake would get iddlies and eat them standing with their wet dhoti around their waist. The iddli would be broad and thick and the iddlies were piled like a little mound of prickly-pear flowers. The steam from them smelled like that coming from the freshly steamed paddy and would be quite refreshing.
Stretching the plate with two iddlies and an egg dosai along with chilli powder, oil and dry chilli chutney, akka would not forget to tell me, "Remember you must study well."
"Yes, akka."
When I returned the plate also she would repeat the same words and it would seem as if only because of her iddlies I was studying well. But I could understand that akka was really serious about it.
In the evenings akka would browse through the books in my bag. Akka did not know how to read and write. She had never been to school.
"Vaithi, I could have been sent to school at least for two years. That cursed woman, oh my mother, kept me at home and thrust my sister on me. Now I need not be simply looking at pictures," she would lament.
When akka was four years old, her mother gave birth to a baby and so she was made to look after her sibling and thus lost her schooling. And when akka was six years her mother ran away from her husband and akka had to live with her uncle.
"Didn't uncle put you in school?"
"No, my aunt made me pick up cow dung…"
Akka stopped with that. Only my grandmother would narrate akka's story in a few sentences now and then.
"Just a year after she attained puberty, the girl got a husband. But of what avail? That boy was a temple bull. He had a number of affairs in the village. He had a firewood shop. He had enough money to go about. He had a good physique craving for sex. Once in his drunken state he thrashed her mercilessly. So she left him and came here. She did not turn back. Later he came and called her several times. But she refused to have anything to do with him."
Now akka would be twenty or twenty-two. Her house was in the Naickar Street running opposite the lake. It was a thatched hut. At the backyard there were malabarnut bushes serving like a fence. Near akka's house my classmate Radhakrishnan was living. He was a close friend of mine. I used to visit him and on my way back I would enter akka's house also. In the inner room, akka's father Kuthirai Gopal Naickar would be lying down. He was once driving a horse drawn cart between Virudhachalam junction and the village. But a sudden attack of paralysis crippled him.
"What did you do with the horse, akka?" I asked her when I went to her house for the first time.
"We could not feed even ourselves. How could we feed it? The horse used to pull the cart everyday and it could not remain in a place and felt uneasy. So I sold it away to the first bidder. It is enough it is safe in someplace away from our eyes. A creature which could not speak, you know?"
Later some other day akka herself told me this:
"Even yesterday that man came to call me. I said 'no more of it'."
"Who, akka?"
"Who else? Who would call me? That rogue who tied the knot."
"You could have gone, akka!"
Akka stared at me. She stood in front of me. "Look at this." So saying she unbuttoned her blouse and showed her breasts. That sight shocked me. That was the first time I saw a woman's breasts. Just above her nipple there was the impression of teeth. It was a scar; it was as if there was no nipple at all. There was black skin thick like a nail bitten and spit off. The scar was the size of the inner palm in the breast which was a little whiter than the body.
"How can I live with a man who bites like this when he is drunk? You tell me, Vaithi. Once when I refused, he branded me with a piece of burning wood. If you see it you will be frightened." She sat in front of me and started crying. But it was only for a few minutes. After sometime she became all right consoling herself.
"Now I am peaceful without any worry. I cook and sell. I make some money. My father and I have our gruel in an honourable way. I have a peaceful sleep. Why should I want a man and the misery?" she said buttoning up her blouse.
Sometime after this when I went to the iddli shop she signalled to me to look at the man sitting near her shop. The man was eating. He was emaciated due to T.B. His dhoti was dirty and his hair uncombed. The very act of eating was painful, it appeared. Only later in the evening I came to know who it was. He was her husband. He had to close his shop. He had T. B. and he was coughing all the time.
"Akka, give him hundred rupees. He looks very pathetic."
Akka used to keep all the money she saved with my grandmother.
"Why do you give to that rogue? You earn your money sitting before the hot stove. Why do you pity the man who spent away his money on harlots?"
"Let it go. Would the women who slept with him come now? I have some money. Let him eat for two months and die."
That evening akka gave him some money and sent him away. As akka had predicted he died in two months.
When I was in my tenth class, Siva teacher came to live in our street. His house was just opposite mine. He was a teacher in the primary school. He became friendly with me soon. I introduced myself to him only in akka's iddli shop. I was attracted by his lively speech and his way of moving with me without minding my age. He did not treat me as a student or a little boy. He had a strong black body. He appeared to expose it in his vest and folded dhoti when he came to the iddli shop. Akka was happy that the teacher himself came to her shop to get his iddlies. Her joy could be seen distinctly on her face.
He would tease akka in the few minutes she would have his hot dosai ready.
"What do you put specially in your dosai? You also make your dosai with rice and how is it that it gets its special flavour and taste?" He would wink at me. In reply akka would say, "Through my fingers flows honey, do you want to see?" and she would stretch her fingers at him.
"Is it a finger or okra?" he would ask. She would also have a ready retort for it. It was thus in the morning they would tease each other. If there were many people in the shop akka would avoid speaking. Siva also would keep quiet.
In Thangamani Palace, "Parthal Pasitheerum" film was playing. Siva told akka and me, "My hunger will not be satisfied if I don't see the film today." Then he said, "You also come with me Vaithi, it is six o'clock show." Akka appeared to be looking somewhere. That evening Siva and I went to see the film. The lamps were switched on in the interval. Only when the boys were selling 'soda, colour, tea' could we see akka in the women's side. Akka smiled at me when I accidentally turned towards her. Siva knew that akka had come, it appeared. He signalled to the boy selling aerated drinks to give one to akka. When the boy went near her, she became shy and shook her head as if to decline it. Siva nodded his head to insist on her to take it. Akka also got it. And drank it all the time showing that she was reluctant.
When I was talking in akka's house one day, she suddenly asked me, "What do you think of Siva teacher, Vaithi?"
I thought for some time and said, "He is a jovial person."
Akka did not reply.
"Why, what is the matter?"
"Nothing, leave it."
"Say openly, akka."
"I saw the teacher in the market in the evening. He asked me, 'what? You have fish curry tonight?' Those who were standing near us have a wagging tongue. So I kept quiet. It was about nine o'clock at night. Somebody knocked at the door. And who do you think it was? Your teacher! How could I turn him away? It would be discourteous. He had his food and stayed that night. Fortunately, father did not wake up at all throughout the night."
Akka lowered her head.
After a few days, akka asked for all the money she had given my grandmother for safe keeping.
"Why, woman?"
"It seems two kanis of land are available at a cheap rate at Rasampalayam, patti. I thought I could buy it."
"Do it. But who is helping you?"
"Teacher."
Grandmother was looking at akka without saying anything. After some time she said, "Whatever it is, it is enough you are happy. Women from your street gossiped a lot of things about you. But I said I knew Lechumi very well. It is all right. This amount will not be enough."
"He said he would advance the amount and register the land in my name."
"Be careful. Things might go wrong."
"Nothing would happen, patti. Teacher is a learned man. He would not do anything like that."
I was busy with my school final examination. Akka took leave saying her mother-in-law had passed away. But it was only for the village. She told my grandmother the truth. She was going with the teacher to register the land. She promised to return in two days. But she did not come back till I finished my examination and started for my home town. The shade of the banyan tree was empty. Even if I forgot my birthday akka would not forget to get me a new shirt. My birthday came. But akka did not come. Nobody knew where she was.
One day grandmother said, "A good girl, he must treat her kindly."
I returned to the village. I must get the results and I must apply to the college. It was then akka came back. When I came home after going out she and grandmother were engaged in an interesting conversation. Akka was cleaning greens. "Vaithi has come," she said looking at me. Akka had gone very thin and dark. Only that day, after two months, I got the details.
"I was cheated, Vaithi. I thought he was educated. Only later I realized he was a useless man," she said.
Siva got a house somewhere for akka. They were together for two months. Only then she came to know that he was making arrangements for his marriage. It was a teacher working with him.
Siva had himself transferred to Kurinchipadi. I went there to meet him. He welcomed me warmly, took me to Muniyandi Vilas and got me biryani. When I had an occasion I asked him, "I thought you would marry Lechumi akka?"
"Who, that iddli shop woman?" said Siva teacher.
After completing my Pre-University class I came to my grandmother's house during holidays. I went with a plate to the banyan tree iddli shop. Akka was very happy. "Come to my house in the evening," she said. I went and I talked about Siva.
"That man had done like this, akka?"
"Leave it,"
"What happened to the money given for the land?"
"Land? Everything was a lie. It was like paying wages. Wages for a man."
Akka laughed. Then she cried. She cried for a long time.
---
Prapanchan passed away on 21 December 2018 and this translated version of his short story will be a fitting tribute to his memory.
Prapanchan is the pseudonym of Sarankapani Vaidyalingam. He is a well known writer in Tamil. He has written more than 200 short stories, many novels and essays. Born in the year 1945 in Puducherry, Prapanchan had his early education there and his Tamil studies for a Pulavar course at Karanthai Tamil Sangam, Thanjavur. He is known for his realistic portrayal of human life. The natural tendency to have sympathy, grace and sacrifice, buried deep in the human heart is brought out in his works. Prapanchan's stories are not modelled on the work of any writer but are born out of pure experience of the self. His style is his own making without the shadow of any other writer, a style strong and simple like the handloom cloth and it comes into one's heart and writes itself," says Sirpi Balasubramaniam.